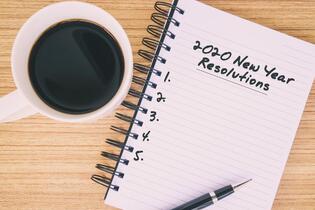 This week marks the end of February and we are officially two months into the new decade. During December and January, we talk a lot about our hopes and dreams for the new year, what our goals are, what we want to accomplish and how we're going to better ourselves. But what happens after January is over and the idea of 'new beginnings' lose their sparkle and we fall back into our old habits?
Research shows while 60% of Americans make New Year's Resolutions, only about 8% report successfully achieving their resolutions. So for the end of this month, we're taking it back to the beginning. What are your New Year's Resolutions, and how can you stick to them for the whole year?
Before setting a resolution, ask yourself the following questions. I recommend grabbing a pen and a piece of paper to write down your answers.
Why do you want to make the change?
Is your goal concrete and measurable?
What is your plan?
Who can support you as you work toward change?
How will you celebrate your victories?
Now that you have your goal in mind, here are a few tips to help keep you or get you back on track:
Start small: Many people go too big, making their goal to save x amount of money by the end of the year, or lose 50 pounds by the end of the year. Making the goal too big could end up overwhelming you and make it easier for you to give up if you aren't seeing immediate results. Instead of a big goal, start with a smaller goal such as "go to the gym 2 times a week" and build on from there.
Make it Measurable: Making specific, measurable goals is a great way to stay on track. For example, if your goal is to lose weight, make sure you know exactly what healthy weight figure you want to achieve. By assigning a measurement, you are specifying what success looks like to you.
Be Realistic: Although setting a goal is a fun way to push yourself and get out of your comfort zone, it's important to set realistic expectations for yourself and make your goal something you can actually achieve. If you're afraid of heights, maybe "learn how to rock climb" shouldn't be one of your resolutions.
Keep Yourself Accountable: Use a habit tracker or accountability partner to keep you accountable and make sure you're actually working towards your goal. Studies show we are 95% more likely to achieve our goals when you have someone keeping you accountable.
We hope this helps you achieve your goals for this year!