Do people tell you things have gotten better, but it doesn't feel that way? Feeling isolated or lonely? Struggling with mental health? Misunderstood? Frustrated? Unmotivated? Wish you knew more like-minded people? If literally you answered yes to any of these questions and identify as LGBTQ+ and are between the ages of 15-20, you should hit up Stillpoint Counseling and Wellness. We're putting together a group of LGBTQ+ young adults in the New Year to explore the relationship between mental health and mindful mediation. It's only $30 for the series.
Email: info@stillpointcounselingandwellness.com to find out more or to register. 
Group Facilitator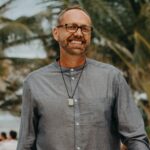 Tony Martin (he/him) earned a Bachelor of Science in Psychology from the University of Richmond and is currently in his final semester of UNCW's Master of Social Work program. In addition to Stillpoint, Tony interns by supervising undergraduate social work students. Tony has practiced mindfulness meditation since 2014 and received training in Mindfulness Based Stress Reduction (MBSR). He has sat several long silent mediation retreats including one for 6-weeks! He is passionate about supporting the LGBTQ+ community and moved to Wilmington from Oakland, CA with his husband Jeff and their rescue pup Mandy. Tony & Jeff have one son in college.