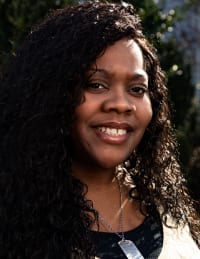 Hi, I'm Byalinah!
Thank you for taking the time to learn about me! I encourage my clients to be patient and kind to themselves and to trust the process. I treat each client as an individual and will meet you where you are in your journey, often using humor to ease tension and lighten the mood, build rapport and help those who see me feel supported.
When working with clients, I help them identify natural support systems, set healthy boundaries, develop coping skills and process issues. Using active listening, empathy and unconditional positive regard, my collaborative approach to care focuses on building resiliency. With an impactful, far-reaching and varied career, I have experience working as a social worker, family counselor, lead teaching parent, in-home counselor and as the program director for a teen crisis shelter. I am passionately devoted to improving people's lives and aim to give people the appropriate services they need to be successful in life.
I work with people ages 10 to 55 who are dealing with major life changes like becoming first time parents, divorce, preparing for or adjusting to college, and grief. I also help those who are dealing with Anxiety, Childhood Trauma, PTSD from abuse or a single incident, pain disorder, psychosis, phobia, shock, and depression. I offer Cognitive Behavioral Therapy, hypnotherapy, and am certified as a clinical military counselor. I am available for Telehealth only.
I look forward to working with you!
Biography:
Byalinah graduated with a Bachelor of Science in Family and Community Services from the University of Massachusetts in 2002 and went on to pursue her Masters of Education from North Carolina Central University in Durham, NC. She is also a certified Clinical Military Counselor, Hypnotherapist and is Certified in Conflict Resolution and Mediation from Duke University. I am also a member of the American Counseling Association and the Licensed Professional Counselors Association of North Carolina (LPCANC)